School District 58 is pleased to provide the opportunity to families with "free access" to the Summer Reading Boost Program.
School District 58 purchased licenses for families to access this program featuring Dr. Janet Mort and the Joyful Literacy Teacher Team. The Summer Reading Boost Program was created to support families in providing fun, relaxing and positive reading experiences over the summer in order to keep their kids reading and growing!
This home-based program comprises 10 videos that instructs parents how to teach and practice Foundational Skills (K to 3). Each video is supported with a handout package of over 100 games, activities, read-aloud strategies and checklists from Janet Mort's new book "Parent Power: You can teach your child to read!" All games and activities are designed to be productive, playful and fun for the whole family. We invite parents/guardians to use the program all summer long and throughout the next school year.
This series of ten 20-minute videos can be easily streamed online by parents for playful practice activities with important Foundational Skills all summer long. You can also download the videos for offline viewing. Each video is accompanied by a package of handouts that include instructions, games and activities for each video topic.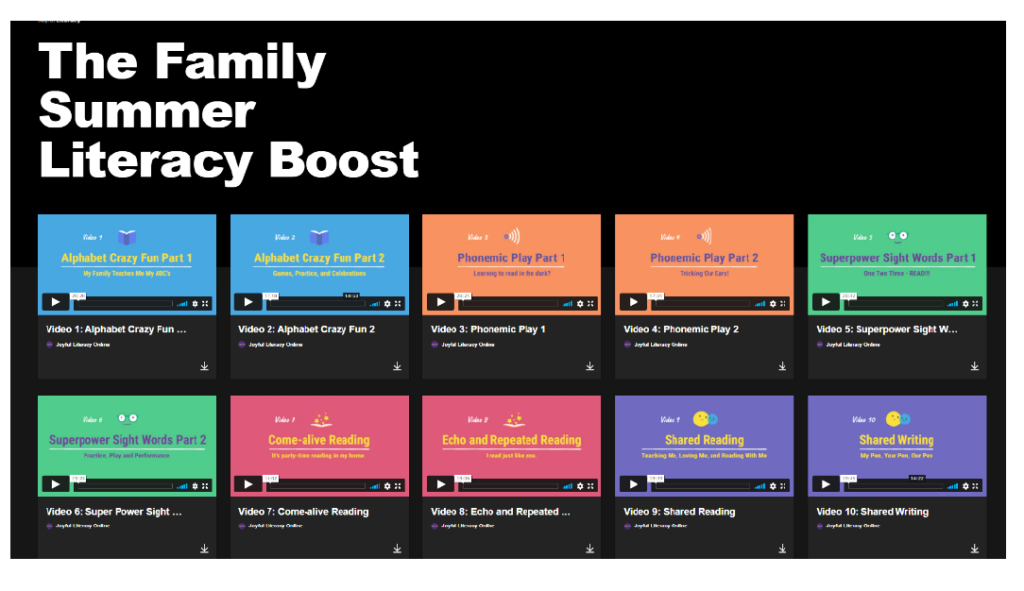 How to Access the Video Series
Copy and paste the "Video Showcase Link" into your web browser.
Enter the password in the "Enter Password" box, and click the "Submit" button.
You'll now have access to stream the video series online, or download individual videos to view them offline.
Password: s78WRm36kD
How to Download Videos
Once you use the password and get access to the video series, you can stream all videos online from your computer and other devices. If you would like to view the videos offline, you can download videos from the web page to your computer in two easy steps.
Step 1: Identify which video you want to download and click the download icon in the bottom right corner of the video's information box.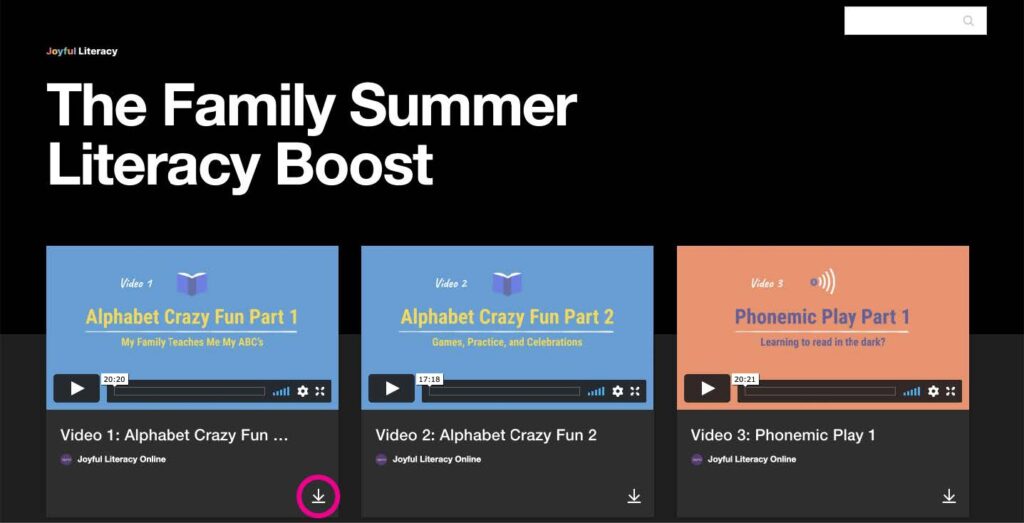 Step 2: Select your preferred resolution quality of the video and click Download. We recommend downloading the 720p version, but you should select whichever video size best suits your needs.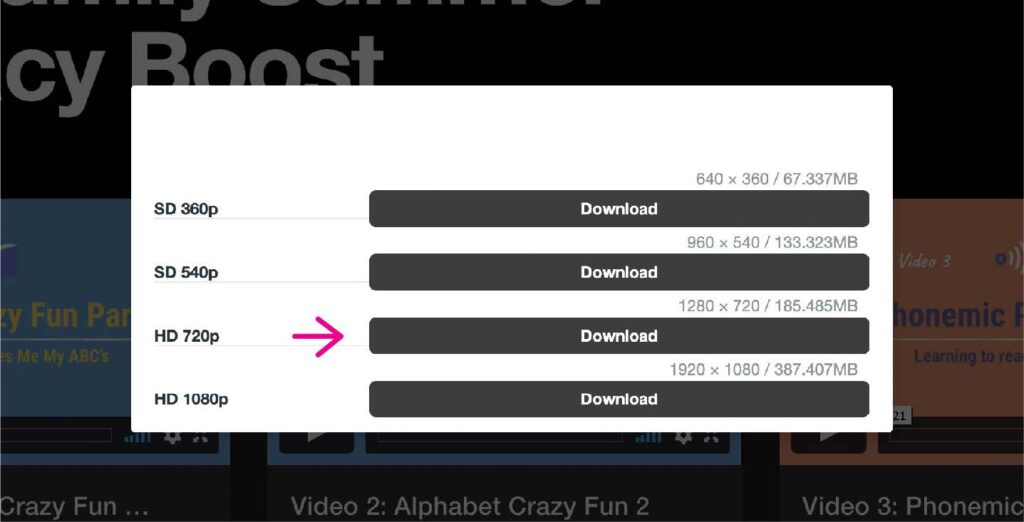 Video Titles include (bundle handouts for each video provided below):
Alphabet Crazy Fun 1: My Family Teaches Me My ABC's
Alphabet Crazy Fun 2: Games, Practice and Celebrations
Phonemic Play 1: Learning to read in the dark?
Phonemic Play 2: Tricking Our Ears!
Superpower Sight Words 1: One Two Three – READ!!!
Superpower Sight Words 2: Practice, Play and Performance
Come-alive Reading: It's party-time reading in my home.
Echo and Repeated Reading: I read just like you.
Reading Buddies: Teaching Me, Loving Me and Reading with Me
Writing Buddies: My Pen, Your Pen, Our Pen
Bundle Handouts with Instructions, Games and Activities for each Video Topic
For technical support accessing the videos, please contact Lucas Bell.
Email: contact@lucasbell.ca
Cell: 250 882 6522